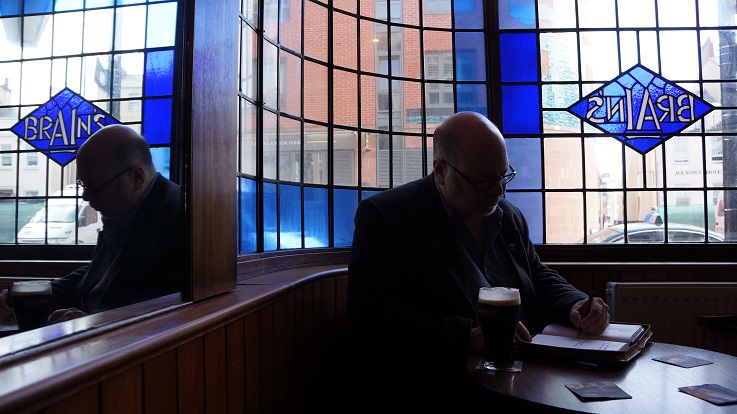 Writing, Walking and Reading, in Wales

Ms Keogh, my more significant other, companion of 32 years, wife of 28, wanted to go home. Ms Keogh is a native of Britain. When young, she had been devastated when her parents decided to stay in the United States for her fatherís career. She had wanted to go back to Britain with her older brothers and finish her education there, but she was only a teenager and had no choice. When her father retired from teaching at the University of Kentucky, her parents returned home to live in a cottage in the Highlands of Scotland, but Ms Keogh was snared by her own career, and by responsibility for two children from a previous marriage. Soon she would meet me.

A few years ago, I telephoned the office of the British Consulate General in New York City and asked about living in the United Kingdom if my wife, a British citizen, wanted to return home. I was reassured it would be no problem, that I could accompany Ms Keogh home and apply for permanent residency when I got there. We checked the United Kingdom website and it confirmed what the lady at the Consulate had said. We thought no more of it.


This summer, having sold or given away everything we owned, Ms Keogh and I boarded the Queen Mary 2 in August to start life over again in Cardiff, Wales. We were half way across the ocean before we learned from the onboard immigration officer that the laws had changed since we had inquired. I was being told that while Ms Keogh could return to her homeland and family, I could not stay with her. I could no longer apply for permanent residency while living in Cardiff. The new laws require me to return to the United States, where I no longer live, and apply there. The immigration officer said it could take six months, even as much as two years.

We are living at Edward England Wharf, named for the eminent potato merchant, not the notorious pirate. This stone building was once a potato warehouse situated at the north end of the Bute West Dock, which has since been filled in and seeded with flats. The 19th century building was converted into luxury flats within the last ten years. We find ourselves perfectly located, a ten minute walk north bringing us into the heart of Cardiff's City Centre, just 750 steps carrying me to Central Library. A twenty minute walk south puts me in Cardiff Bay and there is located my favorite pub, The Packet. I have never been happier with where I was living. In the short five weeks we've been living here, I have made more than a dozen sallies to explore my new home.

It is a joy to be walking again, living in a vast area where the pedestrian is given preference over the automobile. It is an improvement over the car themed suburbia I have escaped, a benefit to my health and mind. Where we lived in America, reaching the nearest grocery meant walking along the shoulders of a very active roads. There were highways and railways with no provision for pedestrians. Quite the contrary, the municipality posted signs that indicated pedestrians were forbidden to cross.

One afternoon, I set off for The Packet, yet never made it. Instead, I walked the circumference of Cardiff Bay, out along the Barrage that regulates the flow of the Bay's water by holding back the tides in Bristol Channel. At the end of the Barrage was The Custom House, restored and developed to serve as a home for La Marina and El Puerto restaurants. Next to The Custom House is the equally old Marine Building, boarded up and waiting its turn at being restored and developed into a new hotel for the Penarth Marina.

During my walk, Ms Keogh was texting me with updates of the Rugby World Cup game. Ireland was behind. We were never much interested in sports. Neither of us could sit still long enough to view more than a few minutes of any game on television. However, since arriving in Wales, we have found rugby to be irresistible. I couldnít stay away and stopped at the very next pub along my walk Ė there is always a next pub. This was The Oystercatcher. With a pint in hand, I watched the game to its finish, Ireland losing to Argentina.

Another day came. I Googled every bookstore within walking distance and explored them all, using a hand drawn map. I particularly wanted a good shop for secondhand books and several of the promising names I'd put on that map had since disappeared. Nevertheless, I found one that could satisfy me until the day I visit Hay-on-Wye. Located inside the narrow Castle Arcade squeezed in among the shops was Troutmark, a secondhand bookshop consisting of three storeys. Every wall of the shop had bookshelves climbing to the ceilings, placing the highest books out of reach. The books were wedged together, nowhere was there a gap.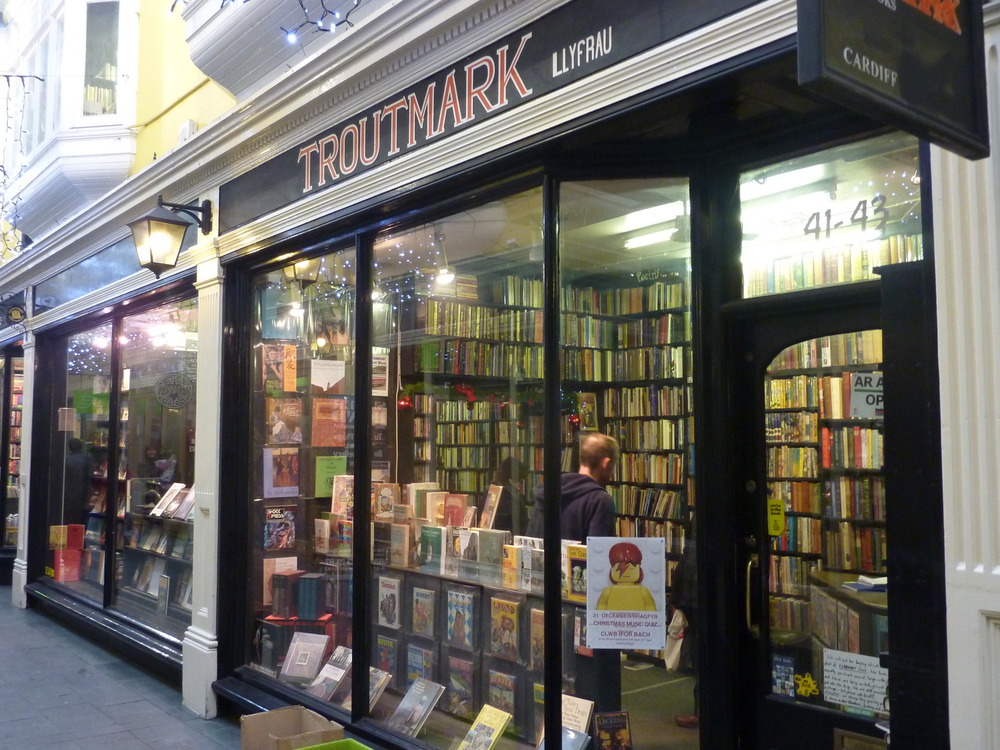 On a Thursday night, while strolling along the edge of City Centre after the stores had closed, Ms Keogh and I heard a melody of church bells reverberating off walls and couldnít be sure of the direction. It was finished before we located it. Ms Keogh and I decided to seek the source. On another Thursday, we ventured into City Centre and discovered the bells to be at Saint John the Baptist Church. Every Thursday night, the bell ringers rehearse. While they rehearsed, the multiple spires grouped atop the churchís tower were brightly lit. We circled the church hoping to find a way in, thinking maybe we could watch them practicing, but the doors were locked. Before we left the church, I happened to notice dancers, three men and two women, inside the backroom of the Owain Glyndŵr Pub.

There is irony in having the Owain Glyndŵr Pub juxtaposed with the church. Owain Glyndŵr, the last Welsh Prince of Wales, sacked the Saint John the Baptist Church in 1404. Owain Glyndŵrís led the Welsh Revolt against their English overlords. The revolution failed and he became a wanted man, yet despite large rewards, Owain was never betrayed by his countrymen and never caught.

As to the dancers, they were holding steel bands that linked them together by the handles at each end. Without ever letting go, they rapidly entwined into changing tight patterns. Ms Keogh and I became engrossed, watching through the window. We were noticed and invited in. They sat us down, an audience of two, and I took the opportunity to have a pint of bitter while we watched them practice an English (rapper) sword dance.

This flat came furnished, but it didnít come with a desk. My writing has been done at the small, round dining table. It results in turmoil when it is time for dinner and I must move all my writing paraphernalia. Tonight, I finished putting together the new Ikea desk Ms Keogh bought for me. It still needs a lamp and a chair. As of this essay, I am still composing paragraphs at the dining table. Ms Keogh has fallen asleep on the couch a few feet away. Everything I want is right here. Cymru am byth.



Mr Bentzman will continue to report here regularly about the events and concerns of his life. If you've any comments or suggestions, he would be pleased to hear from you.
Selected Suburban Soliloquies, the best of Mr Bentzman's earlier series of Snakeskin essays, is available as a book or as an ebook, from Amazon and elsewhere.