72. The Pigeons of Paris

Ms Keogh, my cherished companion, had a surprise for me. It was a secret. I was told we were going away for the weekend and that I would need to pack for one overnight. The weekend came and she took me to Paris! Evocative Paris!

We had finally reached Paris – together. The together was important. Ms Keogh and I promised each other we would see Paris for the first time only together. It was a promise made many years ago, before we were retired, while we were still living in Pennsylvania. Living in Cardiff, it was a short flight to Paris and we decided to go for our thirtieth wedding anniversary. When our thirtieth wedding anniversary came around, we were back in the USA, stuck in Philadelphia, and Ms Keogh in the hospital. It was decided we would postpone Paris until her sixty-fourth birthday. That birthday came and I was again keeping her company in a Philadelphia hospital. Her doctors gave us the impression we might never find ourselves sitting in a sidewalk café having a meal with a friend in Paris. But voilà!

Our friend Étienne came to the airport to greet us. We knew Étienne from another life, when he was living in Greenwich Village, a runaway from a stale and stagnant life in Upstate New York. He lives in Paris now, fluent in ten languages, half of them Slavic. There he was, waiting for us, standing on the other side of a barrier at the Charles de Gaulle Airport, handsomer and happier than I remembered him. He has the stockiness of a rugby player. I lifted my hand to shake his, but he leaned over the barrier to embrace me and kiss both my cheeks. The same for Ms Keogh. Emotive Paris!

Given a choice of train or bus, we took the bus into the heart of the city with the idea we would see more. The bus brought us to the Palais Garnier. Étienne led the way. Newly arrived, still carrying my overstuffed briefcase, Étienne sat us down at a sidewalk café, the Café de la Paix. There we spent our first hour drinking wine and looking across the Rue Auber at the grand façade of the Palais Garnier, home of the Paris Opera (which in turn is the home of the Phantom). Étienne swept his hand across the panorama of boulevards and told us the story of Georges-Eugène Haussmann, the man appointed by Napoleon III to renovate the narrow, medieval streets of old Paris. He created the iconic Paris cityscape familiar in paintings, photographs, and films.

Let me tell you about Paris pigeons. Their feet are more brightly orange than Cardiff pigeons. It is surprising to see them often resting on their bellies. Cardiff pigeons do that too, but only when they are out of reach. Parisian pigeons were at ease resting on sidewalks, steps, and low ledges. We observed the Parisian pigeons preening, not in the security of their roost, but right at our feet under the table at that sidewalk café. Cardiff pigeons are more reserved and private about their preening. The Paris pigeon is more sangfroid and vain.

Still carrying my luggage for the weekend, Étienne led us through the Rive Droite to the Marais, where streets were still narrow and fairly mediaeval, and where he lived. The city is perfumed with delicious smells. We arrived at his neighborhood café, Le Royal Turenne, for a meal and the drinking of more wine. I had the magret de canard, sauce au miel et gratin dauphinoise.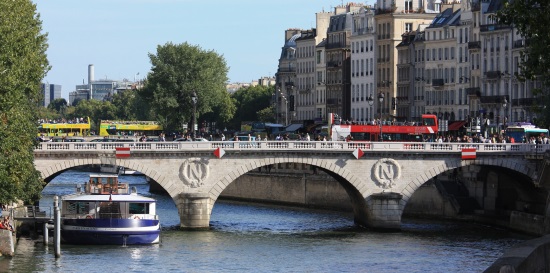 We later crossed the Seine by the Pont Saint-Michel and entered the Rive Gauche. I caught a glimpse of the uppermost tip of the Eiffel Tower, but we had not come to see the emblematic exclamation mark that punctuates the city. We wanted to see the actual city, and we only had twenty-four hours.

Étienne explained how the Latin Quarter acquired its name, because at one time everyone there spoke Latin, the language of the scholars. This was the location of La Sorbonne, the University of Paris, the second oldest university in Europe. Only the University of Bologna is older. We would be staying the night at Place de la Sorbonne. But first, still carrying our luggage, we would stop at another hotel en route, to interfere in the vacation plans of other friends.

Annie and her husband happened to be vacationing in Paris. We hadn't seen them in years, last visiting them in Virginia. The vivacious Annie was vibrant in appearance, her zest infectious. Big eyes and wild white hair cut short and streaked with dabs of color. I no longer know what color to expect her hair to be. She is a director of plays, a collagist, and a docent at the American Shakespeare Center's Blackfriars Playhouse in Staunton, Virginia. She describes herself as a Peripatetic Polymath or Creatrix-Catalyst. Russell, her elegant husband, has the bearing of a gentleman. He has retired from being the Chief White House Calligrapher.

At last we arrived at our hotel. We were staying at the Select Hôtel Rive Gauche on Place de la Sorbonne, a courtyard at the foot of the Sorbonne Chapel, which holds the tomb of Cardinal Richelieu. Ms Keogh was by this time nappish. Our tiny room was in the garret – can you get more Parisian than that? But while the building was old, the room was very modern and stylish. We were instantly fond of the place. The clerk said most Americans complain about the smallness of the rooms, but we were quite comfortable and thought our room a cozy cwtch.

While Ms Keogh retired early, I accompanied Étienne, Annie, and Russell to yet another café for more drinks. Café le Rostand is named for the French poet Edmond Rostand, who wrote the play Cyrano de Bergerac. While the night crawled into Le Jardin du Luxembourg, we four argued about the importance of lighting on the paintings hanging in the Saint-Julien-le-Pauvre. Russell was upset that the lighting had been poor. We discussed history. We cursed Trump. Then it was too cold to continue, so Étienne and I walked Annie and Russell back to their hotel.

Next, Étienne walked me back to my hotel. I was tempted to stay out longer and continue drinking with my friend, whose English acquired a French accent as the night descended. But I wanted most to rejoin Ms Keogh. She had finished napping when I had entered the room. I showered and placed myself alongside her in bed. We held hands and continued our happy conversation of many years.

In the morning, we all four gathered again, this time at the Brasserie Les Patios for breakfast, following which we meandered through the city towards the river. While walking along the Seine, Emmanuel of Notre-Dame de Paris tolled, as it did to announce the liberation of Paris, and then more bells chimed. It was time to leave.

We hurried past the bookstalls; we did not cross the street to pay tribute to Shakespeare and Company. We dropped into the Métro de Paris and said adieu to our friends before passing through the gate. There were promises to meet again, but you can never know.

Epilogue:

We missed our plane. There is only one flight a day back to Cardiff. Ms Keogh had to be back because she had to dialyze on Monday. We found another flight, this one to Exeter. From Exeter, we took the train to Cardiff and were home by midnight with Paris and friends lodged in our hearts.




Mr Bentzman will continue to report here regularly about the events and concerns of his life. If you've any comments or suggestions, he would be pleased to hear from you.
Selected Suburban Soliloquies, the best of Mr Bentzman's earlier series of Snakeskin essays, is available as a book or as an ebook, from Amazon and elsewhere.