Dame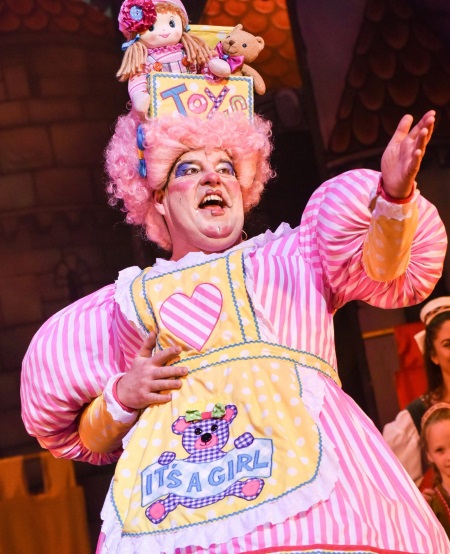 Some thumping chords of overture
Then curtain up! and wham-bang you're
In a brighter world than the one you know -
In the crude utopia of a show,
Primary coloured and simplistic,
Utterly unrealistic.
A show whose logic's like a dream,
A show that teaches kids to scream,
To cheer, to heckle, hiss and boo,
A show that is forever new,
Although each year it's just the same,
And queening it – of course, the dame.

A bloke in a frock
With morals amok,
Transparently lusty,
Outrageously busty,
Imperious, then skittish,
And unutterably British
As the glorious Union Jack
That is resplendent on the back-
Side of her roomy bloomers.
And oh the mighty power her vast bazoom has!
She is glorious in her rudeness
And her crudeness and her lewdness,
Yet oddly she is everybody's friend,
And her talent for just being
Is somehow guaranteeing
That everything will find a a happy end.

But at the nearby university
Some thinkers fret at such perversity.
Serious theorists of gender
See her as a prime offender,
A quite outdated stereotype,
A crude, offensive, over-ripe
Cultural configuration
Supporting hegemonic domination.

I'd like to imagine some
Of these good folk might dare to come
Along to watch the pantomime
And at some to them appropriate time
To loudly tell her in mid-sparkle
That she embodies patriarchal
Attitudes that have no place
Today. She'd look them in the face
And crush them with one innuendo
And that's where their campaign would end – oh
yes
it
would!

George Simmers


If you have any comments on this poem, George Simmers would be pleased to hear from you.

The image at the top shows Damian Williams, whose Dame has queened it in the Sheffield Lyceum pantos for ten glorious years.