76. Portraits

For thirty years, the small portrait of Isabel Gattorno, about 11 inches by 8 inches, hung in my study. It was painted by her husband, the Cuban artist Antonio Gattorno. From 2011 to 2015, her portrait hung directly over my desk. I needed only to lift my head and be warmed by her large, lush eyes. They were truly her eyes for I saw them again in life when she was an old widow. Seventy-five years ago, the portrait hung in the Gattorno's powder room at 10 Downing Street in Manhattan's Greenwich Village.

Our family has a number of works by Gattorno. Now that my mother is in a nursing home, the portrait that Gattorno did of her has been removed from its frame, rolled, and sent to my niece. There is also a small nude of my mother – resulting from a brief dalliance with the artist – which my sister will store until my grandnephew is old enough to embark on his own art collection.

There is also the large painting of Isabel posing half naked. It presently sojourns with Freeman's in Philadelphia, America's oldest auction house. It will come under the hammer in May.

The small Isabel could not accompany me to Wales. When we moved in 2015, taking all we could carry aboard the Queen Mary 2, with the intent of starting life over again, Isabel stayed behind. She is visiting with my sister in Oakland, California, but my sister promises to bring her when she comes in the spring. At that time, Isabel will be restored to her sacred place above my desk to again soothe my spirits. In the meantime, in the place Isabel will eventually occupy is the tough and rugged self-portrait of George Strumfels, a dear friend of more than forty-five years.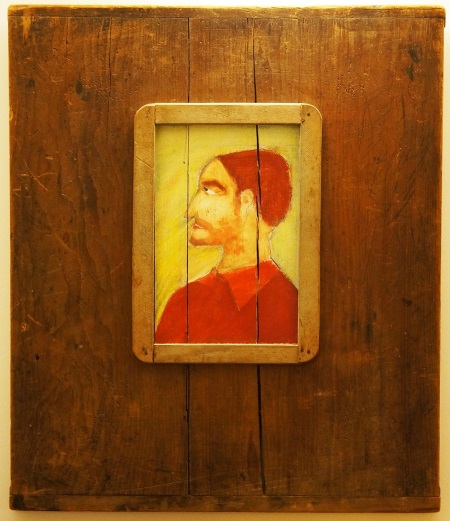 I remember the day I acquired the Strumfels portrait. He and his new wife, Yoonjoo, lived in a small apartment in a Victorian house in Newtown, Pennsylvania. It was in 1980 when I visited them. We were a number of friends squeezed into that room. George and Yoonjoo relaxed on a narrow mattress on the floor. Ken, Kevin, the other Bruce, and I don't recall who else was there. At that time, the self-portrait hung above the bed, which in that small room struck me as a place of honor. I liked it. I liked it a lot and I told him, if ever you decide to give it away, consider me. George replied, it's yours. This riled everyone.

Everybody had wanted that painting, had asked for it, and complained that he had previously claimed he wasn't parting with it. Now, so casually and quickly, he was allowing me to have it. George explained how, since having abandoned his career as an artist, he had already given away works to everybody there, except me. I always declined, saying I wanted to hold out for something special. In that moment, I found the something special.

The painting is small, six inches wide and nine inches tall. It is painted onto a rough wooden board making the whole piece eighteen inches wide by twenty-one inches tall. To me the board looks like an old hatch, but I recently communicated with George about the painting and he thinks it was an old kitchen board used for rolling dough. The inner frame that isolates the painting from the rest of the wood was once part of a child's chalkboard. "Both are probably materials I picked up from the discards of Brown Brothers auction box sales…" Brown Brothers was a wonderful country auction house in Buckingham, Pennsylvania.

In our recent communications, I learned more about the painting, stories I had never known during the decades I owned it. It was part of George's senior art thesis at Goddard College. "My theme was an exploration of what it meant to be an artist from suburbia, and all of the self-portraits (there were other elements to the project) were essentially images of me placed over appropriated work from throughout art history."

He had made several different self-portraits of which mine was probably the first in that series. He later included them in his portfolio when he applied to Tyler School of Art for graduate studies. "I remember the woman who reviewed them used such terms as 'precious' and 'slick', and not in a positive vein. I switched my application over to Art History and never produced another painting."

George based his self-portrait on the famous diptych by Piero della Francesca, "The Duke and Duchess of Urbino", specifically the portrait showing Federico da Montefeltro in profile. If you follow that link and look at it, you will note the curious shape of the Duke's nose. This was the result having lost his right eye in a tournament. The Duke had the bridge of his nose removed by surgeons to improve his field of vision. This military man feared assassination.

George is presently an online bookseller, although Ms Keogh and I see George more as an American Lovejoy - a character from the old BBC1 television comedy-drama series who had a preternatural ability to discern things of value from among junk. Meanwhile his wife, Yoonjoo, is a Paper Conservator, previously for the National Gallery of Art and now for The National Archives in Washington DC.

Ms Keogh, my cherished companion, "strongly dislikes" the painting. She never understood why I thought it was a great piece of art, while she, a graduate of the Pennsylvania Academy of the Fine Arts, regards it as amateurish. She is glad it cannot be seen from the rest of our living room because in hangs in a deep alcove that contains my desk. She is eager for Isabel's return.

The image of George does not assuage my soul the way Isabel did. I look up at the painting and it cheers and invigorates me. I am amused by memories of old friends. I think of the invaluableness of good friendships and I am sustained.




Mr Bentzman will continue to report here regularly about the events and concerns of his life. If you've any comments or suggestions, he would be pleased to hear from you.
Selected Suburban Soliloquies, the best of Mr Bentzman's earlier series of Snakeskin essays, is available as a book or as an ebook, from Amazon and elsewhere.