90. Horizons Sing

My landlord needs to sell. He believes it will be easier to sell the flat in which I live if I vacate it. I must be out by the 7th August. I am sorry for his troubles. I tell myself having to move, to find another apartment, this is trivial. By nature we are nomads. Well, some of us are.

Unable to sleep this morning, I went for a walk. Walks, I find, are the best medicine for derailing the circular thoughts of anxiety. Our health declines when we stop walking. Those who attach themselves to a home risk perishing with their homes.

Our homes are unnatural and constantly seek equilibrium with the environment. They are slowly surrendering to nature until they cease to resist altogether. The plumbing corrodes, the wiring grows brittle, the wood dries and bends as it becomes a nursery for insects, and if we donít move, we are obliged to rebuild in place. Few of us can afford to build estate houses, mausoleums for the living. Employing these thoughts is how I consoled myself, telling myself it will be better to move than to desperately cling to the familiar.

I went in search of new trails on this morningís walk. I decided to walk down the River Taff on the east side, which Iíve never done before. Trying to find a path below the Brainís Brewery trapped me in cul-de-sacs enclosed by gated parking lots and warehouses. I had to take to the familiar west bank briefly, but eventually made my way back to the east bank before arriving at the mouth of the river, where it pours into Cardiff Bay.

I took the trail through the Cardiff Bay Wetlands Reserve. There was no one else this early on a Sunday except coots and moorhens. A male mallard looking sick was trying to sleep on the railing of the jetty. He pulled his head out from beneath his wing to view me, his eyes caked and narrow, but he didnít fly off. I was close enough to pet him, but I didnít try. I stood at the end of the jetty and gazed in the soft light of morning at Penarth atop its promontory and the sailboats harbored between. Did anyone live in those sailboats? It reminded me that humans can be nomads on water as well as land.

For years I have speculated in letters swapped with my friend, Will, how Homo sapiens may have been seafaring even 100,000 years ago. How else could you explain them arriving to Australia so soon after leaving Africa? As fishermen they could have followed the coastline, the sea constantly erasing traces of that early culture, which is why we find no evidence of the perishable wood and sails of early boats. And how did they know the Australian continent existed out beyond the horizon, 50-60 miles away? My theory is that they saw the smoke of brush fires and knew land had to be beneath it.

It was my first visit to the Saint Davidís Hotel, the only AA-rated and five-star hotel in Cardiff. It is conspicuous for the strange steel structure on its roof, a wing, a wave? Iíve learned it is called a sail.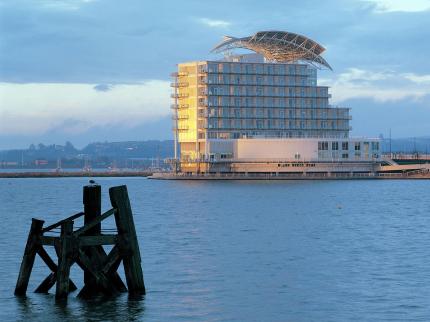 I walked into the lobby to discover it was an enormous oval atrium from which you could see overhead the bottom of the sail on the roof. The hotel clerk at reception went out of his way to make me welcomed, even though I was there only to browse and wonder. The place had the qualities of a seagoing cruise ship. It reminded me of how I came to Wales, not by cruise ship, but by a transatlantic liner, the Queen Mary 2. It was my very first crossing of the Atlantic, my first visit to Great Britain where I had planned to remain the rest of my life. I expected it to be a one way trip.

From the hotel my walk took me to the Wales Millennium Centre, a building of which I have grown extremely fond. A home for the performing arts. The words of poet Gwyneth Lewis are brandished across the face of the building in lofty letters: in Welsh, ďCREU GWIR FEL GWYDR O FFWRNAIS AWENĒ and in English, ďIN THESE STONES HORIZONS SINGĒ.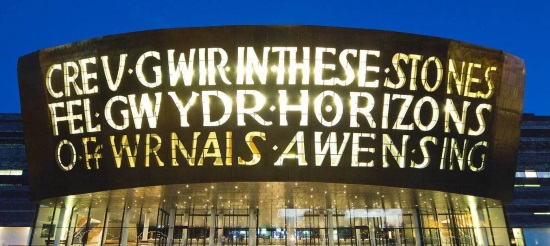 Roald Dahl Plass, the plaza in front of the Wales Millennium Centre, is crowded with temporary structures to house foods and crafts and the performing arts, plus an assortment of amusement park rides. It is Urdd Eisteddfod, a travelling festival which focuses on young people competing in song and dance and which this year is here. Deserted, the stalls and tents are sealed, the rides still and silent. It is early in the morning and the No. 6 bus isnít running yet. The first bus is two hours away, so my walk continues to my apartment.

I live and intend to stay in the heart of Cardiff. I am a creature of the city and thrive on the society and culture. I donít need a house; I have Cardiff for my living room. Before I return to my apartment overlooking The Hayes, I stopped at Starbucks for filtered coffee and to contemplate the coming week. Thursday afternoon, the estate agent will show me another apartment in the David Morgan Building, which, if I like it, I wonít have to move far. In the evening, I will cross The Hayes to take a seat in Saint Davidís Hall. It will be to hear the young Martin James Bartlett perform Shostakovichís Piano Concerto No. 2, followed by Mahlerís Symphony No. 1. Mark Wigglesworth is conducting the BBC National Orchestra of Wales.

Back in my apartment, writing this essay, I appreciate how few possessions I have. A lifetime of clutter had been left behind in Pennsylvania, telling myself not to cling to the past and to embrace priorities. Why should I be anxious and not excited about moving to another apartment? Perhaps it will be better; after all, I get to pick. Home is where you feel at home.




Mr Bentzman will continue to report here regularly about the events and concerns of his life. If you've any comments or suggestions, he would be pleased to hear from you.
Selected Suburban Soliloquies, the best of Mr Bentzman's earlier series of Snakeskin essays, is available as a book or as an ebook, from Amazon and elsewhere.