Itís Never Too Late, Please

I offered you a worthwhile deal
So far as I could see ‒
My goldfish, flat and pension
And a life of constant me.

You settled for the prospect
Of growing old instead
With your telly and your Teasmade
And your orthopaedic bed.

When your tellyís leaked its plasma
And your Teasmadeís blown its fuse
Will your three-position mattress
Be sufficient to amuse?

The fish and I still miss you.
And the mattress on my bed
Would swap all of my imprints
For just one of yours instead.

Martin Parker

If you have any thoughts on this poem, Martin Parker would be pleased to hear them.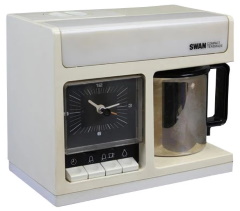 A Swan Teasmade