109. Gone

Tuesday nights, I used to venture around the block to Café Jazz on Saint Mary Street. The Café was encased into the ground floor of the Sandringham Hotel, built during the reign of Victoria. Formerly known as the Black Lion, there is a couchant lion of stone at the highest point of the hotel's façade. The hotel is a narrow building and the café was half as narrow, but deep. I went there preferring jazz to the blaring rock 'n' roll that filled the rest of Saint Mary Street.

On Tuesday nights, the venue was governed by The Preservation Jazz Society, what they called "good-time jazz and swing" from the 1920s and 30s, usually New Orleans style. I went on Tuesdays. I could afford Tuesday's admission fee.

Ms Keogh, my cherished companion, often accompanied me if dinner was included. The bandstand was at the front, by the door, where as many as a half dozen performers would be wedged into the corner with a piano. Squeezing past tables crowded with drinkers, halfway in was the bar. Alone, I would take the stool in the corner and sketch or write in a carnet while drinking pints of Doom Bar or Reverend James. On the walls hung stylized paintings of jazz musicians. When Ms Keogh accompanied me, we continued past the bar into the back half of the café, separated by a low wall topped with a swirling tracery of decorative ironwork. In the dining room at the back, the tables wore tablecloths. The food was delicious and priced fairly.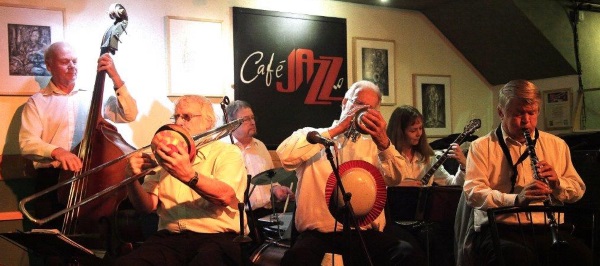 Café Jazz, in happier days.

Most of the performers were old enough to be retirees. They were wonderfully talented, and what they lacked in peerless talent they made up for in enthusiasm and affection for their music. It was contagious. They were the bee's knees, the cat's pajamas.

I spent fewer Tuesday evenings at Café Jazz as Ms Keogh became sicker and more fragile. I preferred staying home with her. After she died, I went back occasionally to dine alone, but the music failed to cheer me as it once had.

I found a renewed desire to return just when the pandemic took hold. Unfortunately, there was no going back to Café Jazz during the months of lockdown. I had started to forget the names of performers and regulars. I still remember Paul and Alun, who collected my £4 at the door. I still remember Sarah Thatcher. She seemed to play the banjo for every band.

Then the sign and awning disappeared from over the door. Another victim of the pandemic, Café Jazz is gone. A jazz venue since 1989 and under the Café Jazz name since 1995, it will no longer be a home for jazz. Now the Preservation Jazz Society is looking for a new venue.

Also gone is the Sunflower&I Café. It was located at a T-intersection of narrow streets behind the Coal Exchange, a hulking palace built for an archaic purpose and now being converted into a hotel. The Sunflower&I Café was on a corner across the street, the café's entrance in the very corner itself. In the concrete above the doorway, the word "BANK" attested to its history, formerly a Lloyd Bank. The café caught piddling sunlight and received little traffic – a hideaway.

Through that door, you came into a bank lobby with aspirationally high ceiling, but otherwise a small area. It had been transformed. My first impression was as if entering the overgrown garden in a decaying Italian villa chock-full of decorative artifacts. I don't think I could have ever discovered this secret garden on my own, hidden from busy streets. Friends had brought me there. It became a favorite place for Ms Keogh and me. Ms Keogh called the décor, "Bohemian Chic".

The proprietors were Sebastian and Łukasz, both from Poland. The acerbic "Seb" provided a Flower Design Service and Łukasz, a mellifluous baritone, organized amazing musical events in which he often sang a part. Together with a small staff they served drinks and Polish specialties. Seb made the best onion soup I've ever tasted. He told me it was his mother's recipe.

There were many quiet nights in the Sunflower&I Café, but when there were events, it was filled to overflowing. One of the first that Ms Keogh and I attended was a celebration of Dydd Gŵyl Dewi Sant, Saint David's Day, the patron saint of Wales. Lyrics were passed out, but most knew them. Even Ms Keogh was familiar with all the melodies, though she had left Wales fifty years prior. Heartfelt voices bonded everyone in fellowship and it was so beautiful, I embarrassed myself with tears. Łukasz was singing in Welsh as easily as he speaks and sings Spanish, Italian, French, German, and what else?

We missed too many recitals when Ms Keogh and I were trapped in the United States straining to return to Wales, musical events that friends still talk about. The concerts I went to after Ms Keogh died were lovely, yet painful when I would dwell on what she was missing.

I am remembering Bach's Coffee Cantata and Mozart's Bastien und Bastienne. Susan Smart sang the roles of Lieschen and Bastienne. Timothy Coleman was Bastien. Łukasz took on the roles of Schlendrian and Colas. This was a rare occasion when they had produced a glossy program.

I also remember the London Klezmer Quartet performing music, at times lively, at times mournful, and in either case with perfection. You don't hear a lot of klezmer in Wales.

I am fortunate to not have lost anybody in this pandemic. For that I am grateful. But the Sunflower&I Café and Café Jazz were also victims of the pandemic. This is my lamentation. What has been lost is rare, if not unique. It feels similar to having a family photo album vanish from my shelf. I can never go back to paging through it reviving happy memories. There are no other copies.


Mr Bentzman will continue to report here regularly about the events and concerns of his life. If you've any comments or suggestions, he would be pleased to hear from you.
You can find his several books at www.Bentzman.com. Enshrined Inside Me, his second collection of essays, is now available to purchase.