121. To Llandudno and Back

As promised, I brought Ms Keogh, my cherished companion of thirty-five years, back to her homeland, Britain, once I retired. She was zealous about my quickly obtaining a British driving licence so we could continue doing road trips. Driving was a passion we shared, but medical conditions now restrained her. Ms Keogh estimated that I had driven over 1.7 million miles in my life before Wales. I have always taken pleasure in driving, yet I was prepared to give it up to live in the UK.

Between my retirement, December 2010, and our departure for Wales, August 2015, Ms Keogh and I made three road trips across the United States. We both derived joy from the cinematic view through our car's windows. Travelling by car gave us the ability to turn at will down any lane that offered an intriguing invitation. We were keen to explore Wales in the same manner. It was soon after I secured the British driving licence that Ms Keogh died from complications due to chronic renal failure.

This last Christmas, I had rented a car to spend the holiday with my in-laws, who live in Thaxted, England. After that visit, I was home in Cardiff and had one day left on my rental. I was determined to go for a long drive. I studied the map of Wales, a small kingdom by American standards. Forty-seven of the fifty States in the US are larger than Wales, yet I had seen very little of my new Welsh home. Having resided for six and a half years on the south coast in Cardiff, where the River Severn becomes the Bristol Channel, I wanted to see the north coast.

The King Edward VII Coronation Tower in Llanbadrig is at the northernmost point of Wales. I considered it, but it was Winter and daylight hours were few. The Isle of Anglesey could wait. I selected Llandudno as my destination, a famous resort confronting the Irish Sea. It was 160 miles to the north as the crow flies, but there are two mountain ranges in-between to frustrate the driver. I was not intimidated by the distance. Google informed me that it would take at least four hours. It takes about that amount of time to drive from Philadelphia, Pennsylvania to Pittsburgh, Pennsylvania, a distance of 260 miles, if you're a crow. The Appalachian Mountains are in the way, but not a single roundabout.

Having departed Cardiff at four o'clock in the morning, it had rained and the city's streets gleamed from streetlights and Christmas lights. I drove on highways that took me into England, the fastest route north. As the hours passed during the drive north, I succumbed to sorrow. Alone, tunneling through night, I was assaulted by memories. Ms Keogh was not in the seat alongside engaging me in our never ending conversation, nor was she my destination. She had been the goal of many long drives. In another circumstance, I could have welcomed the memories, but the sobbing blurred my vision and made driving difficult. Fortunately, at that hour and between the holidays, the roadways were mostly deserted.

It was my intention to visit with friends Rachel and Martyn in Chester before making for Llandudno. Ms Keogh used to babysit Rachel when Rachel was thirteen and Ms Keogh sixteen, both their families sojourning in Kentucky at that time. So there was a restorative pause in my friends' kitchen. We sat at the kitchen's far end where seats were arranged around a small hearth with a wood fire. They offered to make me breakfast, but I wanted only the coffee and buttered whole wheat toast. We talked for an hour and then I was on my way.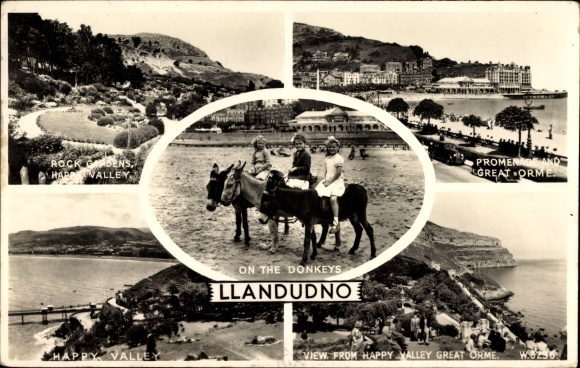 I reached Llandudno too late; Queen Victoria was dead. The once famous Victorian resort, the largest resort in Wales, was still lined with hotels and private homes that had become hotels from the time of Queen Victoria, a few older, a few newer. They formed a long crescent that followed the long curved beach. But these grand buildings are whelks and periwinkles taken over by hermit crabs. These 19th century shells are filled by new occupants with their contemporary furnishings, to which the middle-class are accustomed wherever they travel. The plush trappings of the former interiors have given way to less ornate, box-shaped furniture that is easier to clean, less expensive to replace. Gone is the army of servants. Every room has WiFi and a flat-screen television to take you anyplace other than where you are.

I strolled the promenade to admire the façades, the vestiges of a Victorian heyday. I sought relics and there was a Victorian pillar box designed by J.W. Penfold. I posted a letter there before I left Llandudno. The street that ran behind this fading elegance was no different from high streets in any large town or city, all the same chain stores and discount shops. There was very little you had to travel to Llandudno to find that you couldn't get closer to home. I found a colorless eatery that seemed at the service of locals. I ate my lunch among the regulars, where the staff knew the names of many of their clients, with some customers sitting with newspapers.

Before leaving Llandudno, I drove to the top of the Great Orme. After viewing the vistas on every side, I climbed back into the car and punched into the satnav a request for the most direct route home. The satnav came back with the A470, the longest road in Wales, 186 miles, connecting Llandudno to Cardiff. It is actually several roads stitched together, often twisted and zigzagging. It creeps through the Snowdonia National Park and the Brecon Beacons. I followed it home.

At dusk, I was stitching my way through Snowdonia, its ragged mountains forming ominous silhouettes, a perfect home for mythical beasts, magical persons, giants, and spirits. By the time I reached the Brecon Beacons, there was perfect darkness and I could see only a thin strip of Wales in my headlights. There were times the road was so narrow that either I or the other driver had to wedge the car into the hedge that lined the road so one of us could get past. It took a long time to navigate the A470. Eventually, I was no longer fascinated by the exhausting A470 and was grateful when I was close enough to Cardiff to have a highway beneath my wheels.

The long day was over – to Llandudno and back. I felt as if I had achieved a trip to the moon. I parked the Volkswagen Polo; I could have been happier with a tinier Fiat. I slept a few hours in my flat before taking the car back to the agency. From the agency, I marched proudly the short distance home with new energy, feeling flooded with accomplishment.


Mr Bentzman will continue to report here regularly about the events and concerns of his life. If you've any comments or suggestions, he would be pleased to hear from you.
You can find his several books at www.Bentzman.com. Enshrined Inside Me, his second collection of essays, is now available to purchase.