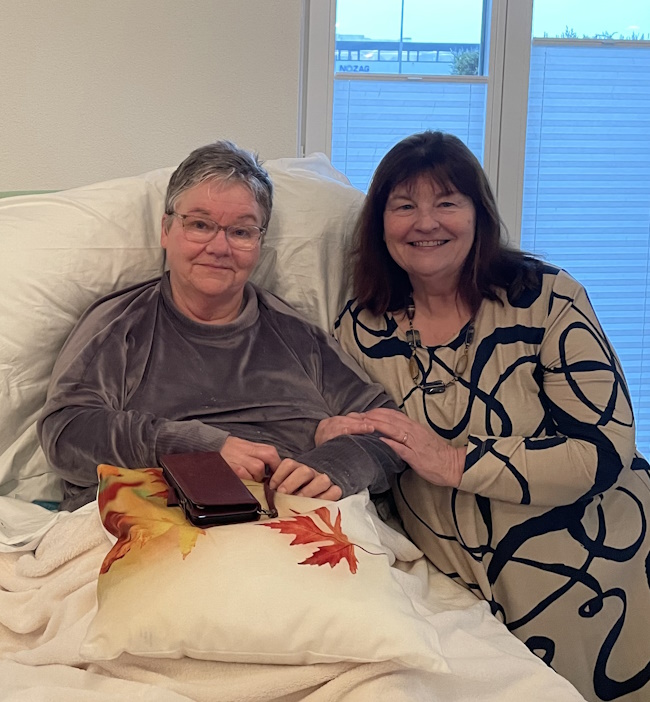 Sharon and Susan


137. Susan's Story

Susan was contacted by colleagues and associates asking if she would take a call from Sharon Johnston. Susan is a Humanist Celebrant, someone who officiates, not unlike a priest or vicar, at weddings or funerals. Her role is to lead the rituals that mark our passage through life, but for the non-religious. Susan is also involved with My Death, My Decision; an organization determined to reform British laws and have physician-assisted death legalized in Wales and England. Learning about Susan through Facebook groups, Sharon thought Susan could help.

Sharon was sixty years old and quadriplegic, except for being able to slightly turn her head and with difficulty move one hand. A vivacious and social person, who used to run a pub and more recently managed a bookmaker's, she had plans to spend her retirement travelling the world, until she fell down the staircase in her Aberystwyth home in 2019. What followed was fifteen months in the hospital and then having to move into an adapted flat in Cardigan, where they could provide round-the-clock care of the most intimate kind. Sharon could operate an electric wheelchair. She had a phone strapped to her arm that was voice operated. She called Susan.

Susan went, with the Chair of My Death, My Decision, to visit Sharon in Cardigan in December of 2021. Sharon's silver hair was cropped short. Her eyes were bright and she greeted them with a smile. "She was completely rational and clear-thinking," Susan told me. "Absolutely resolute in her decision to end her life, yet there was not a trace of depression." Sue could see for herself Sharon's limitations. The prognosis was that even the limited movement she possessed would diminish over time and yet she could live another twenty years with increasing pain. She preferred death to this unhappiness. But she was trapped.

Sharon had considered taking her wheelchair to a railway line or tipping herself into the sea, but was concerned for the trauma this would cause others. What she desired was a dignified, calm, and humane exit. She had already decided to go to Switzerland where physician-assisted dying has been legal since 1998. She could apply to the services of Dignitas, a nonprofit organization that provided physician-assisted suicide. She had already fulfilled the lengthy application process and arranged all the expenses. Her intentions were well known. She had been interviewed on BBC Wales Investigates, an episode "When Would You Want to Die?" It aired on 20th and again on 28th October 2021. She clearly states that she intended to travel to Switzerland to end her life.

The only remaining problem was she couldn't transport herself. Susan was her best hope of escaping her excruciating life and fulfilling her desires. But what were the risks to Susan, because until the law is changed, people are banned from assisting a suicide and can face a possible 14 years in prison if prosecuted.

Sharon had worked it out, every step of the way. All that Susan needed to do was help her travel. Susan was convinced; "I couldn't honestly think of a good enough reason not to help her."

Once they had put her in her electric wheelchair, Sharon could get about town with just her one functioning hand. To make the journey to Switzerland, she needed a manual folding wheelchair and an assistant. She hired a wheelchair adapted taxi to take her to Cardiff in the early hours of Valentine's Day 2022. Arriving in Cardiff at 7am, a cold morning not fully light, she collected Susan. They went off together to Heathrow.

"I had butterflies in my stomach," Susan told me. "It's not the sort of thing you do every day!" There wasn't much conversation. Sharon was occupied with her private thoughts, knowing she would not be returning the next day.

It was during this drive to Heathrow that the first phone call came from the Dyfed Powys Police. Susan and Sharon presumed that one of Sharon's carers reported her missing. The police said they were "very concerned". Sharon kept repeating to them that she was perfectly okay. That didn't suffice and they called again thirty minutes later.

"Imagine her stress," Susan said. "She was convinced we would be stopped on the motorway." About twenty minutes later, Social Services called with the same questions. As Susan tells it, "The flight was slightly delayed and, as we sat in the departure lounge, anxiety was palpable as we expected the police to arrive at any moment." The police called again. Then the flight was announced for boarding.

Because of the extent of her incapacity, special assistance had been arranged. Sharon was a stocky woman and the two porters that appeared looked too slightly-built to attend to her. "Can she weight-bear at all?" they asked. Had they not read the forms regarding tetraplegia, thought Susan? "No."

The porters were awkward in their efforts. Sharon's top climbed up displaying her tummy and the suprapubic catheter. Sharon accepted this embarrassment, probably recognizing in a day or two it would not have mattered. As soon as she had the chance, Susan repositioned Sharon's clothing. "The same happened in reverse in Zurich," said Susan, "although the porters were more robust."

While they were in queue for Swiss customs, Susan overheard the agents asking others, why are you visiting Switzerland? Susan worried, is this going to be a problem and asked Sharon, what will you tell them if they ask? She answered, "I'm on a skiing holiday."

A private ambulance was waiting beyond border control, where once again someone asked, "Can she weight-bear at all?" Her wheelchair was stowed and she was moved onto a gurney. Susan was given the seat next to the driver. Susan had been to Europe, but never Switzerland. She has wanted to visit it and hoped to see something from the ambulance. All she saw were mountains in the far distance, but the journey went through mostly urban areas. This was not a vacation. Meanwhile, Sharon could only see the ceiling of the ambulance during the half hour journey to the Dignitas house. It was not a scenic location, being placed among factories, but they were not there for the scenery. The room was bright and clean. It could have been a hotel room anywhere, the floor decorated with an Oriental rug. There wasn't a scenic view from the window. Still, Susan could always come back.

There were more obstacles. Sharon and Susan were shocked when two Swiss Police officers appeared. This had never happened before in the history of Dignitas. They were there at the behest of the Dyfed Powys Police and had been asked to assess Sharon's capacity and if she was being coerced, presumably by Susan. They left satisfied.

The next morning, the Dignitas doctor came to see Sharon a second time. At any time, Sharon had the opportunity to change her mind. First, she took medication to prevent nausea. After a bit of time had lapsed, they brought her the cocktail. This was not euthanasia. No one put the cocktail into her. Since she couldn't use her arms, she was presented with a straw. It was for her to put her lips over the straw and drink. The medicine had a bitter taste and she was offered cranberry juice afterwards. There wasn't a long wait.

She seemed to fall into a peaceful sleep. Then her eyes opened, briefly, and she said, "This is a lovely feeling." A minute or so later, the nurse touched her chest, then said, "She's gone."

I asked. Sue answered, "I did shed a few tears immediately after Sharon died. Mixed emotions – mainly relief? Sadness for her situation – a life cut short in a split-second accident? And she died with strangers, not surrounded by loved ones, as it should be."

Having fulfilled her duty, there was nothing more for Susan but to return home. She even managed to catch an earlier flight, unaware how this was upsetting plans put in motion by others. She was on the train back to Cardiff, texting her husband that because of all the Dyfed Powys Police attempts at intervention, she would visit the police station the next day. For her, the next day would come early.

At 5:30am, while it was still dark, there was a pounding on the door. Bobbie, their Terrier-Pug mix went berserk. Her husband went down to the door and called to his wife, "Sue, it's the police."

One of the two female officers said, "Do you know why we're here?"

"Yes," Susan replied while sitting down and inviting them to sit.

"No. You're under arrest. We're taking you to the Cardiff Bay Police Station."

Outside were two police vans. One was waiting with its back doors open and a cage where Susan was to sit. Four male police officers came out of the second van to perform a search of their home. Susan's husband asked, "Do you have a warrant?"

"We don't need one for this category of crime." Susan's act of compassion fell in the same category as murder, manslaughter, and terrorism. They spent four hours in their search taking her laptop, tablet, documents from her work as a Humanist Celebrant that they found in the shredding sack, and several of her husband's devices as well.

At Cardiff Bay Station, the officer in charge was sympathetic, saying, "You're not used to this kind of thing, are you?" Why should she be, having spent her life striving to be uncommonly moral? She was to spend nineteen hours in a cell. What she didn't know was the police had intended to intercept her at Heathrow, but she wasn't on the expected flight.

She was questioned by a harsh female inquisitor who tried to uncover Susan's motive, such as what benefits she was expecting from the death of Sharon. For Susan, there was no benefit. She willingly sacrificed her time and energy. Now her sacrifice included time in a police cell. However, there were officers who went out of their way to see she was comfortable, even going so far as to be apologetic, that they saw this as unfair to her and wondered who put this travesty into motion, but they had their orders to obey. Resigned to her situation, but increasingly frustrated by the growing length of her incarceration, at one point she began feeling claustrophobic. She practiced mindfulness to calm herself.

She was released "pending investigation," wondering if she would have to go to court and face a custodial sentence. They telephoned her husband after midnight to come and collect her, but in his anxiety, he had consumed too much wine to drive. The interviewing detectives dropped her off at home en route back to Dyfed Powys Headquarters in Carmarthen.

For six and a half months she had to go without the tools of her vocation, the seized devices. In late August, the case was closed due to "evidential difficulties". In September, she was allowed to retrieve her possessions, which were being kept in Carmarthen.

Susan and her husband Rod are my friends. I invited them to lunch at the Discovery Inn to learn more about Susan's story, and because the Discovery Inn allows dogs. Bobbie joined us for lunch. Bobbie and I became immediate friends. Bobbie was well-behaved. So were Susan and Rod. They are decent people who are dedicated to the humane treatment of animals, including humans.




Mr Bentzman will continue to report here regularly about the events and concerns of his life. If you've any comments or suggestions, he would be pleased to hear from you.
You can find his several books at www.Bentzman.com. Enshrined Inside Me, his second collection of essays, is now available to purchase.