138. In Spring an Old Manís FancyÖ

Monday nights they have a very good jazz trio performing at Lab 22, a cocktail bar above the Greggs, at the east end of Chippy Lane, reached by a narrow staircase into the dark. I rarely have Monday nights free, but I was free that one night.

I sat at the bar and drank whiskey sours. It was a drink from my childhood. When my family went out for dinners, my father would order a whiskey sour and have it placed between us for me to drink.

I was the oldest person at Lab 22. Indeed, at the very least twenty years older than anyone I observed. It was my music. It was my drink - well, my childhood drink. Nowhere else I knew of in Cardiff did they know how to make a whiskey sour. Still, I felt as if I wasn't supposed to be there.

The young women were alluring, but isn't that biology? Young adults are designed to be appealing. They work to enhance what will attract a partner. But sometimes they cast their nets too wide and without meaning to, I get caught in them. I'm the old leatherback turtle who will drown in their nets if they don't kindly throw me back into the lonely sea.

It isnít only sylphs and nymphs that seize my attention. As the world burns due to human folly, Cardiff not so much. The weather here has been strange. June is a month when Cardiffians expect cooling showers and for July, sunny days with warm afternoons. This year those two months were reversed. In the unexpectedly warm days of June, the roadways were dry. This new home, Wales, I have yet to properly explore its towns and villages residing at the ends of twisting roads. They lure me. In June I was missing my motorcycle.

I almost shipped my Honda Shadow Phantom to Britain from the States. It was a beautiful bike, but not perfect. At 745cc, it was a tad underpowered and the pegs scraped the road when I leaned into curves. I gave it to my son who took it away to Kentucky. When spring arrived in Wales with many idyllic days, the craving for a motorcycle returned with the warm weather.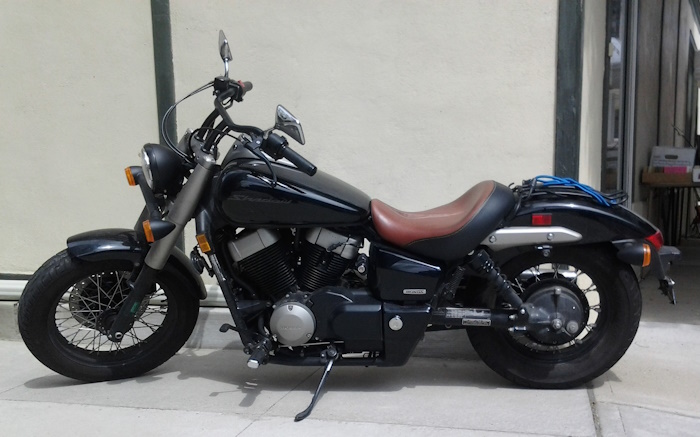 Honda Shadow Phantom.

For a while, I was spared the temptation because no one was selling the kind of motorcycle I wanted, a stripped cruiser with a driveshaft. I will only ride a shaft drive, no chains or belts. One quick trip from Pennsylvania to Colorado destroyed the chain on the Honda CB450 back in the early 1970s. Never again. The BMW R80 (797.5cc) should have been perfect, but it had an alarming number of issues and was spending too much time in the shop. The Honda they loaned me while the BMW was being repaired seemed a better bike. Now BMW motorcycles snort too much power, their engines too big for puttering along Welsh lanes lined with stone walls or hedges.

How enjoyable it could have been discovering Wales, and then the rest of Britain, travelling where and when I pleased. How much easier it would have been to navigate those ridiculously narrow lanes. More economical, too, with a motorcycleís fuel mileage.

It was while I was in this state of longing that Googleís algorithms brought to my attention a Moto Guzzi V7 Stone, a most beautiful motorcycle with the size and every feature I could want. Damned YouTube kept me supplied with temptation. I was obsessively binge watching YouTube videos of Moto Guzzi reviews.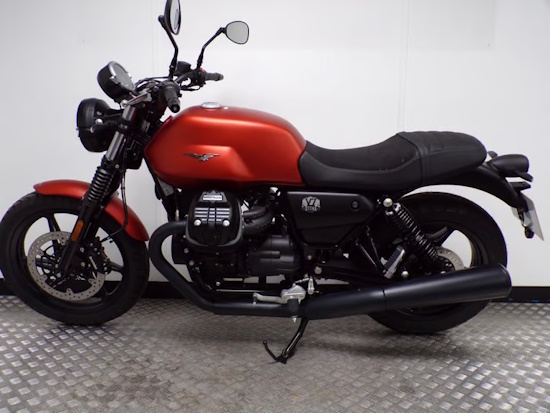 Moto Guzzi V7 Stone

It all came together rather quickly. The UK Government did not acknowledge the right to ride motorcycles present on my Pennsylvania driverís license. A British driving licence for motorcycles was a more arduous procedure. I would need a CBT [Compulsory Basic Training] certificate and a valid Theory Test certificate. It would mean paying an authorized trainer and using a borrowed bike, but I decided my skill set from over forty years of riding without ever spilling would see me swiftly through the classes. But what about parking?

My flat does not include parking. There is no lot associated with this building. However, I have three friends in Cardiff who donít drive or own cars, who have offered me the parking spots that came with their flats. Unexpectedly, I have found the proposition of a new Moto Guzzi V7 within financial reach. That was sunny June.

A wet July has dampened the desire. While brushing my teeth, I was again shocked to see my aged father looking back out of the mirror. A three-day bout with COVID, back in the second week of October, introduced me to sciatica the length of my left leg. Nine months later, I still havenít recovered fully. Walking has grown difficult. You can add arthritis in my knees and gout in my big toes to the tally. There is also decaying night vision, slower reaction time, and the feeling Iíve been a little wobbly. Maybe Iím too old for motorcycling.

I need to remind myself how many bus rides I can purchase for the price of a motorcycle. Three things easier to do on a moving bus are reading or writing or sleeping. I am old. The approach of August surges young passions that I can see expressed all around, but itís not allowed for me. The embers of youth trapped inside this decaying coffin dreams of zigzagging through new scenery with ease. I think itís not to be. It is terrible to desire that which we are too old to have.





Mr Bentzman will continue to report here regularly about the events and concerns of his life. If you've any comments or suggestions, he would be pleased to hear from you.
You can find his several books at www.Bentzman.com. Enshrined Inside Me, his second collection of essays, is now available to purchase.