139. Melincourt Falls

Every Tuesday, I join friends at Coffee Club, although we quickly advance to spirits, except for those driving. Before the COVID pandemic, I had expressed a desire to see more of my new home country, Wales. Joyce spoke up. "I'll take you to see the beautiful Melincourt Waterfalls. It's only an hour's drive from Cardiff."

Last week, years later, the plans finally came together. Joyce had retired as Community Manager for the Salvation Army. She had a new car that would seat four. We pulled the plans together at Coffee Club and found two more to fill the empty seats on just two days' notice. They were Ann and Brian.

Of course, having seen Niagara Falls, I wasn't likely to be impressed with the size and power of Melincourt Falls. Even in Bucks County, Pennsylvania, home for most of my life, there are plenty of hidden waterfalls, the county being laced throughout with creeks making their way to the Delaware River. Also, the drive up River Road passed below the 300-foot Nockamixon Cliffs. In winter it produced towering cascades frozen motionless. Melincourt Falls are 80 feet.
But they are beautiful.

After we parked the car in the provided lot, we followed a gentle but rocky trail along Melin Court Brook. The trail was crammed with ferns and moss. Vegetation carpeted everything but the trail itself. Halfway there, it became troublesome for Ann to continue due to medical issues. Joyce accompanied her back to the car while Brian and I pressed on.

One comes upon the falls suddenly at the gorge's end. All attention is on the major falls; the secondary falls easy to neglect. Two families were already there and they had brought lots of children.

It was captivating. J.M.W. Turner had come this far and found the major waterfall worthy to be sketched.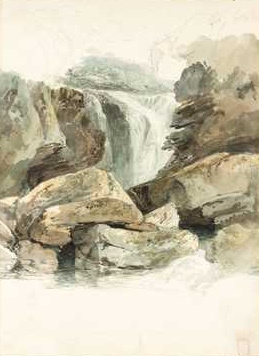 J.M.W Turner - Melincourt Falls

At its base were jagged rocks not yet smoothed by water, suggesting the cliffs were still eroding. There was room enough to go behind the falls, but no one was trying. I took the same photograph as had thousands of people before me. Then I turned my attention to the secondary falls.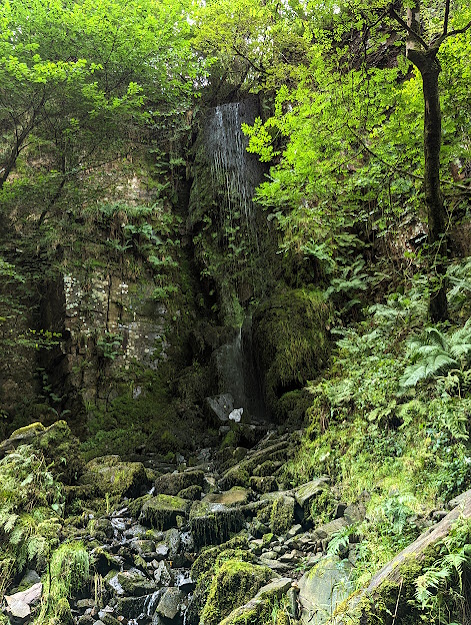 The Secondary Falls

Alongside the lesser falls was a steep slope of mud and rocks. I walked as far as was easy and reached a point where a steep incline was rising no more than three feet before reaching a ledge. The ledge was as far as I had planned to go, just enough to get me past a bush in order to photograph the scraggier of the two falls. A year ago, I could have climbed it easily. Yes, it would need my hands and I would get them a little dirty, but I was game. I studied it at length, planning the placement of my feet, and taking into consideration that I was not as limber as I once was, I made my move.

I was up on the ledge, balancing on my right foot and bringing forward the left leg to brace myself while I still had momentum. But I didn't have purchase with the entirety of my left foot and had forgotten that something was neurologically wrong with the left leg. I couldn't hold any weight with just a third of that foot. The toes that could have supported me a year ago, instantly gave way.

Falling backwards, I called out "WHOA!" and twisted my body around so as to not land hitting the ground with the back of my head. I knew how to fall. I learned how to fall when I was ten years old and taking judo lessons. The ground was further away than I expected – the damn slope. Yet, it was also quicker than I expected. While I was trying to recalculate the placement of arms and leg, I was shocked to find myself already smashed against rocky ground, startled to realize the side of my face was hard against rock, mud, and gravel. I had dirt in my mouth and up my nose, but my teeth were all whole and in place.

How was it I didn't have my arms out, elbows bent, to absorb the fall? I have never fallen on my face before. I rarely ever fall. Maybe less than half a dozen times if I try hard to remember the past seventy-two years. I've stumbled plenty, but always caught myself. This was a terrible surprise.

I didn't hurry to get up, but first did an assessment of everywhere I felt pain or discomfort. Everything worked. I began pushing myself off the ground and realized the right side of my head was bloody and dirty. The most painful part was the humiliation.

The young father of one family rushed forward to help me. I declined his assistance. I didn't want to be the old man who had fallen. I wanted to be the fellow who helped old men who fell. I didn't recognize myself. I was determined to rise on my own, without assistance. How else could I demonstrate I was alright and didn't want the two families and Brian to be worried? The horror on their faces told me they wouldn't believe me. I was looking far more awful than I felt. The children were terrified on my behalf, one little girl crying. There was nothing to grab and I realized, even though I could get upright, I would look terribly awkward in the endeavor. It would only increase everybody's worry. So I took the young fellow's hand after all and rose to my feet.

They wouldn't stop being concerned, which made it ever more embarrassing. Everyone was wonderful. Water and wipes were produced and I tried best to clean myself. I did an immediate assessment of my belongings. The Sony a7R IV camera unharmed. The Google Pixel 6 phone unharmed. The two Faber-Castell e-motion Pure Black pens in my shirt pocket unharmed. The only reading glasses that fit my face and have to be ordered from Texas and shipped by my sister in California, unharmed. I was just dirty, bloody, and ashamed, my pride severely damaged.

I really wanted to appease the alarm in the children. Brian was concerned I'd go into shock. Breathing was normal. I wasn't feeling my heart pounding. I was typically talkative and philosophizing about the annoyance of age chipping away at the body and delivering surprises.

Things settled and I made Brian wait until the two families made their way back to the parking lot. Much to Brian's anxiety, I was reconsidering the climb. It should not have been that difficult. I thought to try again when they were all gone, convinced I could do it if I were more careful. They tell you to always get back on the horse. But what if I should fall again for lack of some other consideration than the dead nerve in my left leg? Proverbs 16:18, "Pride goeth before destruction, and an haughty spirit before a fall." If I fell again and injured myself more severely, it would have been a nuisance to the people rescuing me from that small gorge. It was better to be looked upon as an old man than a vain fool.

Brian and I walked back down the stony trail we came up. I decided we should take a comical photograph. Brian is a small man, half my size, and would be eighty-five years old the very next day. I set up my phone for the picture and handed it to Brian. Then got behind Brian, wrapping my arms about him, as if he were carrying me on his back. We both mugged for the photo and Brian snapped it. We transmitted it to our friends.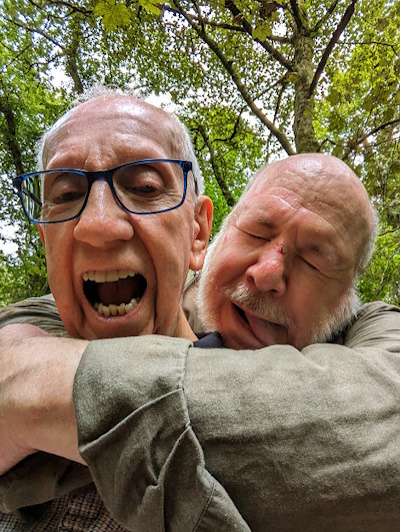 Halfway back, there was Joyce coming the other way wanting to see if she could be of any help. Once back at the car, Ann, a retired nurse, inspected me. No dizziness. No nausea. My injuries were all superficial, except to my ego.

The next day, the bruises turned black and crusty black snot came from my nose. Across the bridge of my nose, up the right cheek and across the right temple, I saw in the mirror the familiar injuries I've seen on other elderly folks who fell.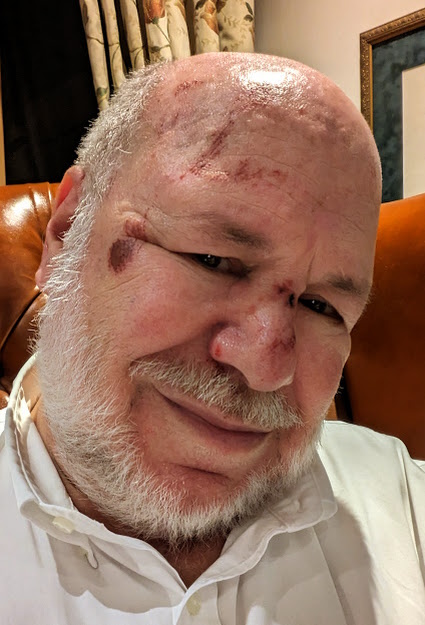 A next day selfie.

A threshold had been crossed and I now belonged to a society of the unsteady, for which I never thought I would qualify.

As Joyce drove us back to Cardiff, I remarked that the fall was the most thrilling part of the day's adventures. It had given me something to write about.



For an eighteenth-century take on Melincourt Falls, you might like to read the verses of William Sotheby in his Tour through Parts of Wales (1794)




Mr Bentzman will continue to report here regularly about the events and concerns of his life. If you've any comments or suggestions, he would be pleased to hear from you.
You can find his several books at www.Bentzman.com. Enshrined Inside Me, his second collection of essays, is now available to purchase.