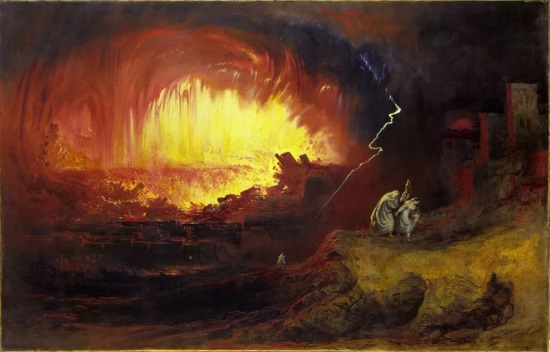 The Destruction of Sodom and Gomorrah by John Martin (1789-1854)

John Martin, Painter and Decorator

Creative design solutions.
References available on request

Neutral shades — such a cliche, sweetheart.
What you want for this bathroom's a bit
of my Destruction of Tyre. Lightning flash
on the ceiling, tsunami breaking by the bath,
then towels to match, for a finishing touch.

The master bedroom, now, I'd go for a dash
of Sodom and Gomorrah. Flame red, of course ,
then that lightning motif might come in handy,
if you wanted to repeat it. Could be a theme
throughout the house, if you know what I mean.

If you ask me, darling, in the lounge you want
something tranquil and harmonious. Maybe
theme it after the Plains of Heaven — azure,
white — unless you want to give it more drama
with details from my Last Judgement. A frieze

of angels, perhaps, and some of the damned
in the alcove, faces personalised, if you like.
Then the dining room, well, Belshazzar's Feast
is a shoo-in, although the writing on the wall
might be tricky. I'd see if Blake could give it a go,

and we'd need a specialist for a trompe l'oeil
hand of God. Magritte might be our lad for that,
though there's something to be said for Dali.
Listen to me, getting carried away, as per usual.
You have a think. I'll pop a quote in the post.

Sharon Phillips

If you have any thoughts on this poem, Sharon Phillips would be pleased to hear them.