87. Bleu

There was a time when I was living in New York City with my first wife. We had memberships to the Museum of Modern Art, MoMA. I worked in the offices of Sears, Roebuck and Company on 50th Street West and Broadway. They had offices in Manhattan then, to be near the Garment District, but would eventually close the office to centralize to their headquarters in the Sears Tower at Chicago. I was one of only two clerk-typists invited to join the executive staff being transferred, given a bonus and moved at company's expense. That's another story.

At the end of my workday in Manhattan, rather than squeezing into the subway to return to Queens, I would wait out rush hour visiting MoMA. First I would snack in their café on a wedge of chocolate cake and a bottle of Beck's Dark. Then, temporarily satiated, I would make my way to Monet's Water Lilies. There at the time was a room reserved for them. I would sit meditating with Monet's immense triptych finding a calmness to restore my spirits, what Matsui-san, my wife, called "wa".

Then, in 1978, the Metropolitan Museum of Art presented their fabulous exhibition, Monet's Years at Giverny: Beyond Impressionism. It infected me like a virus, altering the way I felt. The colors projected into my psyche and began rewiring it. It was causing something unfamiliar.

I had seen Monet's work plenty of times prior to the Met's exhibition and was never before as severely affected. When I was living in Brookline, Massachusetts, there was his painting of a poppy field in the Museum of Fine Arts. When I lived in the suburbs of Philadelphia, there were the poplars in the Philadelphia Museum of Art and the Japanese bridge in the Princeton Art Museum. After Sears moved us, Matsui-san and I joined the Art Institute of Chicago, where I became particularly enamored with Monet's "Arrival of the Normandy Train, Gare Saint-Lazare". These are just the paintings I best remember, but there were more. Monet was prolific. But this time, at the 1978 exhibition, the colors and ostensible swiftness of his brushstrokes pierced deeper. It was telling me something about my failure as a writer, something I was not doing right. And maybe it was a spark of light into the dismal room of a dark malaise, making me aware of my discontentment.

Because of the 1978 exhibition, I read biographies on Monet. That is when I discovered the existence of the two oval rooms lined with Monet's water lilies at the Musée de l'Orangerie. From that moment on, I had always planned a pilgrimage to see them. It would be my hajj.

Ms Keogh, my cherished companion and second marriage, wanted for us to visit Paris together. For both it would be our first time. We knew she was dying, so there was urgency. But now that we had abandoned the United States to live in the United Kingdom, Paris was in reach, less than an hour and a half from Cardiff Airport.

Ms Keogh made all the arrangements in secret. It was only for a weekend, between Ms Keogh's dialysis sessions. We agreed not to expend precious time inside museums, but were to stay on the streets and learn the city's sights, sounds, smells, and tastes. We would come back for the museums, probably one at a time. She apologized and said the first museum we would return for should be the Musée de l'Orangerie. The second trip to Paris, I went alone as my cherished companion had died.

Making my way along the Seine to the Musée de l'Orangerie on a hot afternoon, a Romany woman stole my favorite cap, which had been folded and tucked into a pocket. But that is a story I have already told. I continued, crossing the Seine, traversing Jardin des Tuileries, and reaching l'Orangerie, I entered and paid my admission fee. I fulfilled my hajj.

With slow care, I circled both oval galleries of Monet's Water Lilies. It was overwhelming. It was too much to absorb. I was unable to focus. It neither calmed nor inspired me. Had I oversold the promise to myself, expecting – hoping – for a second epiphany? No spark of light, but then it might be that I no longer harbored a dark, dismal room in my soul. It had taken forty years to fulfill this goal, this pilgrimage.

I sat. A young Japanese woman sat beside me. I asked, "Anata wa Nihonjin desu ka?" thus exhausting half the Japanese words I know. I had asked if she was Japanese. Her answer was yes and then some. I then asked in English if she spoke English. The conversation continued in English. She was not fluent, but a hundred times better with my language than I was with hers.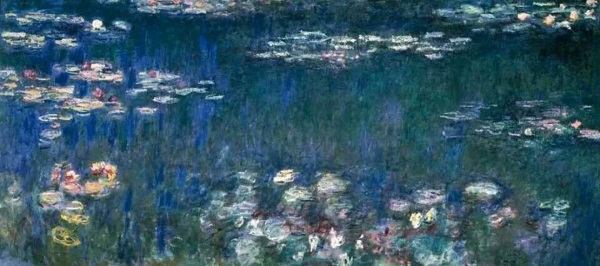 She asked if I would photograph her and I agreed. She rose from her seat to pose in front of the water lilies. In the typical fashion of a Japanese tourist, she stood stiff and facing the camera. I repositioned her, having her change her body's pose forty-five degrees. She caught on and adopted a relaxed appearance. She seemed happier for it. I went down on my knees to have a steep angle causing Monet's work to completely fill the background.

There was nothing to be done about it. I left the museum unquenched. I had expected too much from Monet's monumental paintings, but it hadn't been a sterile experience. The experience wasn't to end there. Later that day, I found myself reminiscing on what I had seen earlier, contemplating those many different shades of blues, all probably derived from the cobalt blue the Impressionists favored. The next morning, I woke from a dream of Monet's water lilies, revisiting a particularly dark blue in the "Green Reflections" panel.

For the remainder of my visit to Paris, I was finding blues everywhere and admiring them as if I hadn't seen blue before. The blues made me happy. I came home to Wales with a bottle of blue ink as my only memento of this Paris visit.




Mr Bentzman will continue to report here regularly about the events and concerns of his life. If you've any comments or suggestions, he would be pleased to hear from you.
Selected Suburban Soliloquies, the best of Mr Bentzman's earlier series of Snakeskin essays, is available as a book or as an ebook, from Amazon and elsewhere.